SUBJECT AREA - LEASING VARIABLES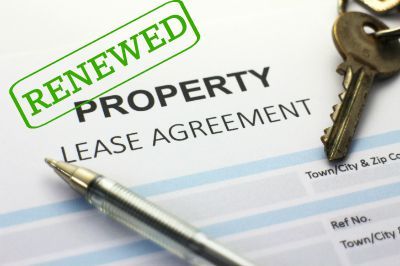 If you do not have any options, and your business is very successful, approach the Landlord early to try and ensure you have a fully negotiated lease extension well in advance of your "End of Term".

If your store is doing so poorly that you are seriously considering closing the business, especially if the rent went up, then nothing reinforces that position better than letting your lease expire. When the lease expires, approach your Landlord to renegotiate the terms.

Every Tenant should approach a lease renewal negotiation with the same intensity they did with the original lease document. BUT, there is one major difference -- you now have the benefit of knowing what the true sales potential of the location is. So ask yourself this question, "What would I change to increase the sales?"

It may be the center itself or the location within the center. You may decide your store should be bigger or smaller. All these items plus many more need to be addressed in renewals.

Committing to a location and signing a lease is a little like dating and getting married. Make sure you're comfortable with the relationship before making the commitment. Consider addressing those items you were not successful in negotiating in your original lease form. Below, are items you should be considering as part of your lease renewal process.
1. Timing of your request vs. when your lease is set to terminate: This is the most important variable. If too late you won't have time to find a new location in the event you have to relocate.

2. Current Sales Trend: What factors are helping or hurting your sales? Did competition move in nearby? Would you be better served to relocate away to new trade area?

3. Does your current lease require you to report sales? Does your landlord know your sales volume. If so, it undermines your negotiating position.

4. Have you looked at alternate nearby centers? You should.

5. Current condition of your shopping center? Is it old and run down? Poorly maintained? Is the parking lot full of potholes? It may only get worse if you renew for another 5-10 years.

6. Does your lease have current options? At what base rent? Compared to other nearby centers? Did you check?

7. Anchors: Is your anchor planning to stay? Did they recently renovate? Or is it old, run down, and they may consider leaving? Investigate further please.

8. Co-tenancy and Exclusive: If you weren't successful in negotiating these provisions into your lease when you open consider requesting them now as part of the renewal.
Created with