SUBJECT AREA - LEASING VARIABLES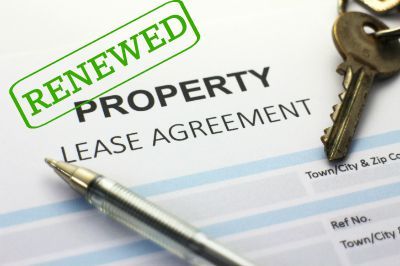 If you do not have any options, and your business is very successful, approach the Landlord early to try and ensure you have a fully negotiated lease extension well in advance of your "End of Term".

If your store is doing so poorly that you are seriously considering closing the business, especially if the rent went up, then nothing reinforces that position better than letting your lease expire. When the lease expires, approach your Landlord to renegotiate the terms.

Every Tenant should approach a lease renewal negotiation with the same intensity they did with the original lease document. BUT, there is one major difference -- you now have the benefit of knowing what the true sales potential of the location is. So ask yourself this question, "What would I change to increase the sales?"

It may be the center itself or the location within the center. You may decide your store should be bigger or smaller. All these items plus many more need to be addressed in renewals.

Committing to a location and signing a lease is a little like dating and getting married. Make sure you're comfortable with the relationship before making the commitment. Consider addressing those items you were not successful in negotiating in your original lease form. Below, are items you should be considering as part of your lease renewal process.
1. Timing of your request vs. when your lease is set to terminate: After you complete your site tour with your broker, a typical tenant will normally start processing up to three real good sites. Either the landlord or the tenant may draft a Letter of Intent. (LOI) In my years of experience it has always been my preference (representing the tenant) to generate the LOI because then I can include provisions or requests within the LOI to address individual circumstances within the spaces being considered. Once the landlord (or tenant) receives the LOI they will normally counter to the offer being submitted. The PRS website has dedicated the Leasing Variables Subject Area to this most important part of the store opening process. A few of the LOI provisions include: Term and Options, Tenant Allowance, Free Rent, Exclusive, enough Build-out time, NNN defined, Relocation clause deleted, Percentage Rent deleted, Landlord Marketing Requirement deleted, etc. Once the landlord counter proposal has been received by the tenant you will immediately see which landlord is working hard to secure you as their tenant and which one has little interest.

2. Current Sales Trend: What factors are helping or hurting your sales? Did competition move in nearby? Would you be better served to relocate away to new trade area? These are the questions you must ask yourself before you just renew or extend a lease by exercising an option.

3. Does your current lease require you to report sales? Does your landlord know your sales volume. If so, it undermines your negotiating position. Here's why. Every business or use has an ideal rent to sales ratio. The more sophisticated landlords know these ratios. For example: The typical restaurant does not want a rent to sales ratio over 8%. And rent (or occupancy) is defined as base rent plus CAM, taxes and insurance (NNN charges). So, if a restaurant is leasing 2,000 sq ft and paying $50 psf in base rent and $10 in NNN charges their total occupancy is $120,000 a year. At an 8% occupancy ratio both the landlord and the tenant know that sales must be about $1,500,000 to maintain a profitable business. $120,000 divided by 8% = $1,500,000. If the restaurant sales are $3,000,000 and the occupancy is $120,000 a year then the occupancy to sales ratio is only 4% and the landlord could request a base rent increase from $120,000 to $220,000 in the renewal. Because $220,000 as the new base rent and $20,000 in NNN charges = $240,000 annually and that is 8% of the $3,000,000 in sales. The tenant can afford to pay this increase and if the renewal negotiation was started to close to the end of term the tenant may be forced to accommodate this outrageous increase because of their poor prior planning or close the location.

4. Have you looked at alternate nearby centers? You should. Because in every community or trade area there is an expression "market rents" Contacting nearby alternate locations will give the tenant insight what other landlords are asking in base rent and sometimes it may be advantageous to relocate nearby to save in occupancy costs.

5. Current condition of your shopping center? Is it old and run down? Poorly maintained? Is the parking lot full of potholes? It may only get worse if you renew for another 5-10 years. Depending on how big the space you are leasing is, within the shopping center, you may require the landlord to complete upgrades to the center, install a new pylon, repave part or all of the parking lot.

6. Does your lease have current options? At what base rent? Compared to other nearby centers? Did you check? Options are for the advantage of the tenant. At the time the original lease was executed it allowed the tenant to have a set and agreed upon rent years into the future. Sometimes five or ten years into the future. Based on your trade area the increase you agreed to five or ten years ago may be a blessing or a curse. If the market rates in your area have skyrocketed than your options may be below market and a blessing, if exercised. If numerous new shopping centers have opened in your area and these other landlords are desperate for tenants the market rates may have dropped and your options may be "overpriced." So, prior to exercising your existing options you will want to learn market rates which will guide in to exercise or try and renegotiate your existing options.

7. Anchors: Is your anchor planning to stay? Did they recently renovate? Or is it old, run down, and they may consider leaving? Investigate further please. Trade areas change over time. A shopping center that originally opened with a Sav-A-Lot Supermarket or Aldi may be desirable for a more upscale grocer like Whole Foods. If the trade area is becoming more upscale or the opposite, more demographically challenged then prior to renewing your lease you have to decide if this trade area is still desirable for the goods and services you are selling.

8. Co-tenancy and Exclusive: If you weren't successful in negotiating these provisions into your lease when you opened consider requesting them now as part of the renewal. When you are entering the lease renewal negotiation process, please look at it as you were considering this center for the first time. Only this time, you have an advantage over that original negotiation. You now have the knowledge of what your sales potential is rather than what it could be. So, enter that negotiation from a position of strength to secure the best renewal possible.
Created with